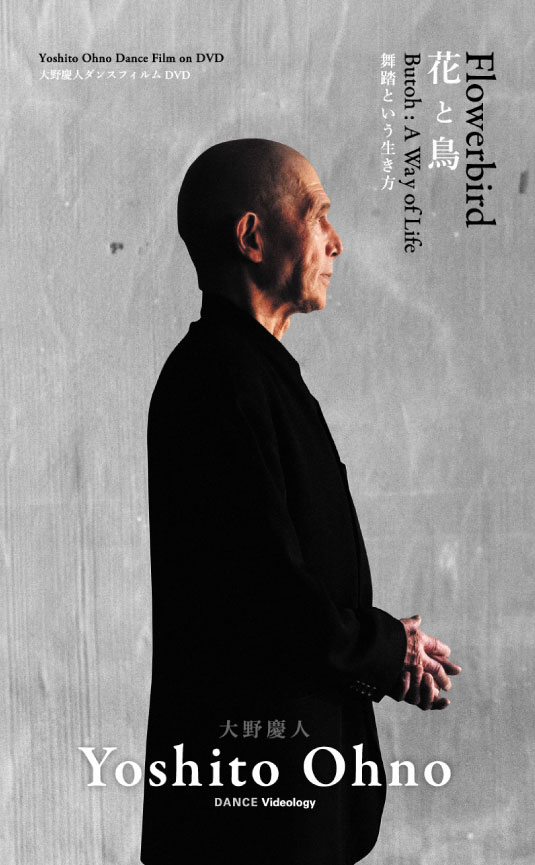 Yoshito Ohno Dance Film on DVD
Flowerbird Butoh: A Way of Life
5,500 yen
Disc: 85 minutes+14 minutes of additional footage with English subtitle
Booklet: 112 pages with 74 images both in Japanese and English
© Canta Co.Ltd

Comprising historic archive footage and texts this DVD box enlightens us greatly about Yoshito Ohno's here and now. Butoh has a distinct starting point, namely, in 1959, with Kinjiki , a duet featuring Tatsumi Hijikata and Yoshito Ohno. His father, the legendary Kazuo Ohno created another epoch-making opus in 1977 Admiring La Argentina, with Yoshito Ohno as production manager. These links are no mere coincidence. To date, we've tended to overlook Yoshito Ohno, barely granting him the recognition he merits. Just as dance requires a lengthy gestation period in which to evolve, his dance has finally come into our field of vision, in all its freshness and stark-nakedness, linking Butoh's origins to its zenith, to a point where he now stands at a crossroads.

Flyer download

Audio-visual Footage:
Antony and the Ohnos (2010)
Three songs performed by Antony Her Eyes Are Underneath The Ground, Crying Light, You Are My Sister, and his a cappella rendition of Can't Help Falling In Love, from the acclaimed performance by Yoshito Ohno with Antony at Tokyo's Sogetsu Hall.

Tatsumi Hijikata's spoken choreography three pieces (2011)
On the occasion of Kazuo Ohno's performance of The Dead Sea (1985), Hijikata specifically choreographed three pieces for Yoshito Ohno. In addition to video footage of Yoshito Ohno dancing these three pieces shot in Singapore (2011), this DVD also features a specially edited video of Yoshito Ohno performing while speaking Hijikata's words, along with Divinarianes shot at the première of Flower and Bird at BankART Studio NYK in Yokohama (2013) and The Rabbit Dance, a short gem performed in Munich (2014).

Additional footage: The Navel and the A-Bomb (1960)
Directed by Eikoh Hosoe it features Tatsumi Hijikata and Yoshito Ohno in the uncut version of this historic avant-garde film.

Bilingual booklet: Butoh A Way of Life
Featuring 74 illustrations, this 112-page booklet comprises excerpts of interviews in which Ohno discusses everything from his stage debut, retirement and comeback to his current outlook on life.

Produced and published by Canta Co.Ltd in collaboration with Kazuo Ohno Dance Studio, Eikoh Hosoe, BankART1929 and PROD.ART.BR. Special thanks to Antony and the Johnsons, Ricardo Muniz Fernandes, Hideki Matsuka and Éden Peretta.