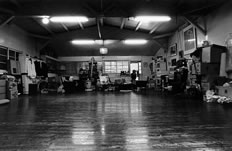 In 1949 Kazuo Ohno established the Kazuo Ohno Dance Studio and gave the first Kazuo Ohno modern dance recital in Kanda Kyoritsu Kodo hall in Tokyo.Originally, the rehearsals were held in the gymnasium of Soshin Girl's School where he was working as a teacher.
The Kamihoshikawa studio was first built in 1961 in Hodogaya, Yokohama. Since then, the Kamihoshikawa butoh studio has been the center where Kazuo Ohno creates and rehearses for his dance pieces. The one-storied studio's total floor space is 99 square meters. It is built of wood and its wall and the ceiling is painted all white. For the floor and the window frames the discarded woods from Soshin Girl's School were used. In the summer of 1983 the floor was renewed.
Kazuo Ohno Dance Studio has always been the center for the creation as Kazuo & Yoshito Ohno, many other Butoh dancers and artists have gathered and studied since its establishment. At the same time it has produced the performances, the workshops and the books as well so that it initiates the development of the world's culture and communication.
The main undertakings of Kazuo Ohno Dance Studio are conducting the workshops, producing the performances and establishing the butoh archives. Now at the Kamihoshikawa studio, Yoshito Ohno gives the regular workshops three times a week and the performances in and out of Japan throughout a year.
Since 1995 Kazuo Ohno Dance Studio has got active in collecting and classifying all the materials regarding the archives. In 2002 Kazuo Ohno Archives was established in Bologna, Italy. In 2004 the preparatory room for Kazuo Ohno Archives was started at BankART1929, Yokohama and now is working hard on the realization of the Archives in Yokohama.
Canta Ltd. undertakes those productions that Kazuo Ohno Dance Studio sponsors or cosponsors as well as produces and sells books, videos/dvds and posters concerning Kazuo Ohno. Canta Ltd. also takes care of those resources which belong to Kazuo Ohno Dance Studio to construct Kazuo Ohno Archives.
Canta Ltd.
Established on July 2002
Capital : 5,000,000 yen
Representative director : Toshio Mizohata
Location : Shinagawa, Tokyo, Japan
E-MAIL info@kazuoohnodancestudio.com