日本語
Kazuo Ohno Festival 2011
The 2011 Kazuo Ohno Festival will take place in the Amphitheatre of the Shin Minatomura, the Small City for the Future complex.
This theatre embodies a blueprint for the theatre of the future. With walls made from Washi, a tough and fibrous Japanese paper, the indoor space isn't isolated from the outer world: light, sound and what happens onstage filters gently outside. A theatre for the future is one, which endeavours to transmit a message to future generations. In considering what we could achieve in this space, we tentatively came up with the idea of a New Piece/Peace Project — this involves the participating artists reside in the theatre space for a determined period, during which they will create a site specific piece to be performed in situ, thus allowing the spectators to witness where the work came to life.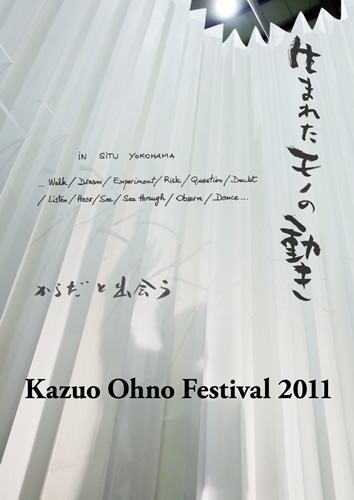 Duration: Friday, September 30th until Sunday, October 30th. 2011
Venues: Shin Minatomura Theatre on Shinko Pier and Surrounding Area
Admission Fee: Advanced Purchase ¥ 2,800, On-the-day ¥ 3,300
October 22nd: Advance Purchase ¥ 1,000 On-the-day: ¥ 1,500


Reservation and Queries, Address and Access
Opening Night (Friday, September 30, 19:30)
As a festival opener, we are proud to present a preview of Taste of Life, a joint project between Karine Saporta and Project Ohyama. A reception will be held after the performance to which everybody is cordially invited.
Karine Saporta and Project Ohyama "Taste of Life Preview"
Date: Friday, September 30, 19:30
Venue: Shin Minatomura Theatre
Admission/ BankLife3 Tariff: General Public ¥300,
University Students ¥ 250, High School Students ¥ 200
Free Admission for visitors with a Shin Minatomura Pass or a Yokohama Triennale Joint Ticket.

Performers
Karine Saporta, Project Ohyama, Aoki Yuki, Newcomer H, Régine Chopinot, Daisuke Tomita, Takayuki Fujimoto, Tsuyoshi Shirai, Daisuke Yoshimoto, Takao Kawaguchi, Yuko Hirai, Yasutaka Henmi, Danny Yung, Yang Yang, Xu Sijia, Kanji Shimizu, Keisuke Kanai, Jiro Aoki, Mamoru Sakata, Miki Kakiuchi, Maki Kurita, Yoshito Ohno, Kakuya Ohasi&Dancers Ensemble Sonne along with others, Tess Talitha Blanchard, Makoto Matsushima, Atsunori Kawamura, Mineki Murata, Akaikutsu Junior Chorus, Lee Ryol Li (Former WBA Super-bantam weight champion), others
New Piece Project
Special Programs
Exhibition
Information
Reservation and Queries
Bankart1929:  ohnofes@bankart1929.com
Tel: 045-225-8212. Fax: 045-664-3353
Admission Fee: Advanced Purchase ¥ 2,800, On-the-day ¥ 3,300
October 22nd: Advance Purchase ¥ 1,000 On-the-day: ¥ 1,500
Ticket Reductions
Students and Senior Citizens over 60 are eligible for a Yen 500 reduction.
Kazuo Ohno Festival Pass
Allows one to attend all performances. Note, however, that only the name-bearer on the pass will be granted free entry.
Address and Access
Shinko Pier, Shinko 2-5, Chuo-ward, Yokohama-city.
Access by public transport
Get off at Bashamichi station, on the Yokohama Minato-mirai line.
From exit 6, (Akairenga Soko exit) it is about a 10-minute walk in the direction of the Bankokubashi Bridge and the World Porter's complex.

Shuttle-bus
A free shuttle-will operate for visitors in possession of a BankART Life Pass or a Yokohama Triennale Joint ticket. The bus will run between the Triennale site and Shin Minatomura every 10 to 15 minutes. Please note that the last departure is scheduled from the Yokohama Museum at 18:30.
Organisers :
Kazuo Ohno Dance Studio, BankART1929
Conjunction :
Culture and Tourism Bureau, Yokohama
Financial assistance :
the Agency for Cultural Affairs under the auspices of the 2011 Outstanding Artistic Projects Scheme
Co-Sponsors :
Hong Kong Economic and Trade Office Tokyo , ANA

Project Co-ordination :
 Institut Franco-Japonais, Yokohama
Special thanks to Keio University Arts Centre, Pacific Basin Arts Communication (PARC)
Festival sponsored as part of the 66th Cultural Agency Arts Festival, 2011