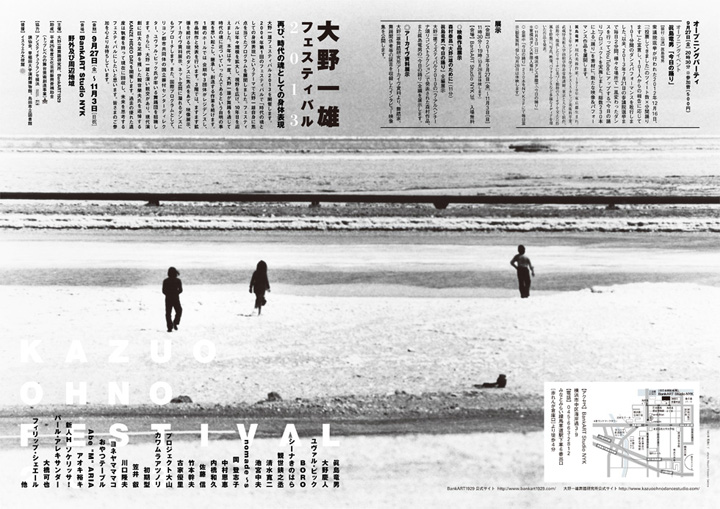 日本語
Kazuo Ohno Festival 2013
Reprise: Physical Expression of the Zeitgeist
With the 2013 Kazuo Ohno Festival, we celebrate the tenth in a series that has constantly been with the prevailing wind in the dance world, both on a national and international level. With the theme of a 'physical expression of the zeitgeist,' Kazuo Ohno was the focus of the first festival back in 2004. Over time we have expanded the program and broadened our perspective. This year we once again continue to produce and present dancers and artists who have inherited and incorporate the spirit of Kazuo Ohno's work – a work that remains close to the spirit of the times we live in and yet timeless.
In the hall on the ground floor, three groups will be in residency during the festival, and will present the fruits of their work to the public. On the third floor visitors will have the opportunity to view the ever-increasing amount of contemporary dance videos and archive materials, including those in the cyber world, where all kinds of people upload all kinds of dance. As part of our international program, we have invited the Lyon based dance company from the Centre Chorégraphique National de Rillieux-la-Pape under the direction of Yuval Pick. Another outstanding feature of this year's festival will be the Kanze Hideo Day to pay homage to Kazuo Ohno's close friend and innovative Noh-player who left a huge mark on contemporary theatre. We see our festival as a bridge between past and future, a place where we treasure our deep heritage and foster those that carry that torch into the future. We look forward to your company.
Friday, 27th September 2013 ----- Sunday, 3rd November 2013
Venues : BankART Studio NYK and the nearby area
Admission Fee: ¥2,500 (in advance); ¥3,000 (on the day)

Detailed ticket and access infomation
Exhibition
Friday, 27 September 2013 ---- Sunday, 3 November 2013, 11:30-19:00 at BankART Studio NYK3F
(Please note that there will be no projection on Oct.26)
Admission free
【Video Work Exhibition】
■"Trilogy for Kazuo Ohno's Admiring La Argentina" by Yasumasa Morimura(11 min.)
■Full footage of "Today's Dance" by Tatsuo Majima
Morimura's work was done in the occasion of Kazuo Ohno Festival 2010's "Admiring La Argentina --- a Remake." And we offer the opportunity to see the full version of Majima's "Today's Dance."

【Now recruiting 230 dancers for Tatsuo Majima's "Today's Dance"】
On 3rd of November, the last day of the festival, we are planning to dance Majima's 230 dances with 230 people. Come and check out the exhibition and pick one dance you would like to dance (you could also check them out on youtube), and dance with other 229 dance lovers. For the detail, please visit:
https://www.facebook.com/events/511069065647036/
【Archive Material Exhibition 】
Among the variety of materials that Kazuo Ohno Dance Studio Archive has, we show the interviews with butoh dancers and those who relates to dance talking on Kazuo Ohno and the dance of their time.
Workshop
Workshop by Yuval Pick & Madoka Kobayashi
Campfire
Tuesday, 15 October---Thursday, 17 October, 19:30-22:00 at BankART Studio NYK 3F
Tuition: ¥6,000 for 3 days (a purchase of any festival performances makes the fee ¥5,000)
Availing of the participants' ideas, Pick and Kobayashi plan to incorporate casual movements from our everyday lives so as to create a choreography in which dance is the common language. Participants don't require previous dance experience.
Program (please click the title for more information)  
【BankART Studio NYK 1F  NYK Hall】
Newcomer H (Sokerissa)


Person with Horns

Friday, September 27th. 19:30
(After the performance you are invited to the opening party.)
Saturday, September 28th. 16:00
Sunday, September 29th. 16:00

Kakuya Ohashi & Philipp Chehere


Transfauns

Wednesday, October 23rd. 20:00
A creation inspired by the conversation with Kazuo Ohno
Nakao Ikemiya Dance Company Nomad~s


Herdenohr: The Group Ear

Wednesday, October 30th. 19:30★
Thursday, October 31st. 20:00
Friday, November 1st. 14:00★, 19:30
Saturday, November 2nd. 19:30
★There will be a post-performance talk.
【BankART Studio NYK 3F Gallery】
Yoshito Ohno


Flower and Bird – A Letter to my future Self

Friday, October 4th. 19:30
Saturday, October 5th. 16:00
Sunday, October 6th. 16:00
Yuval Pick presents outstanding French contemporary dance
Yuval Pick


Danse Tout Terrain

Saturday, October 12th. 18:00
Sunday, October 13th. 16:00
18 verses of the BORO's song A Woman born in Osaka set to dance improvisations
Yuval Pick and BORO


Improvisation

Monday(holiday), October 14th. 16:00
Project Oyama


Odorubaka

Saturday, October 19th. 18:00

Research Project:




I saw you trying to dance.


Peformance I saw you trying to dance by Atsunori Kawamura and a round table.
Sunday, October 20th. 16:00
Takao Kawaguchi


Kazuo Ohno

Thursday, Octobar 24th. 20:00
KANZE HIDEO DAY
In commemoration of the sixth anniversary of Kanze Hideo's parting;
Kanze Tetsunojo

"Uto: Birds of Sorrow"


Kanji Shimizu

"Somon: Love poem"

Saturday, October 26th. 18:30
There will be a post-performance talk with a director Makoto Sato and Mikio Takemoto, a professor of Waseda University.
Akira Kasai


I dance the Japanese Constitution

Sunday, October 27th. 18:00
Late night show
Megumi Nakamura, Toshiko Oka and Kazuhisa Uchihashi


Vertigo

Friday, November 1st. 21:30
Walkabout project

Yokohama Dance Neighbourhood 2013


Mamako Yoneyama, Abe"M"ARIA, Oyatsu Table, Team of Today's Dance and more
Sunday, November 3rd. 13:00
Please register at BankART Studio NYK by 12:45 at the latest.

Download the flyer(

PDF / 1.8MB / 2pages)


Ticket Reservation
Information
Tickets
Admission: ¥2,500 (in advance); ¥3,000 (on the day) for each performance

Ticket Reductions
Students and Senior Citizens over 60 are eligible for a ¥500 reduction with identification cards.
Kazuo Ohno Festival Pass: ¥10,000Allows one to attend each one of all performances. Note that only the name-bearer on the pass will be able to use it.
3 Performances Pass: ¥6,000Allows one to attend three performances on his/her choice. Please reserve the seats upon purchasing. Only the name-bearer on the pass will be able to use it.
Reservation and Queries
BankART 1929 :  ohnofes@bankart1929.com
TEL 045-663-2812 FAX 045-663-2813
Please reserve by e-mail specifying the name and the date of your intending performance, your name, your phone number and the number of tickets you want to purchase. We take the reservations also by telephone and fax.
■Web form click here to reserve on-line
BankART1929 official website http://www.bankart1929.com/
Kazuo Ohno Dance Studio official website http://www.kazuoohnodancestudio.com/
Address and Access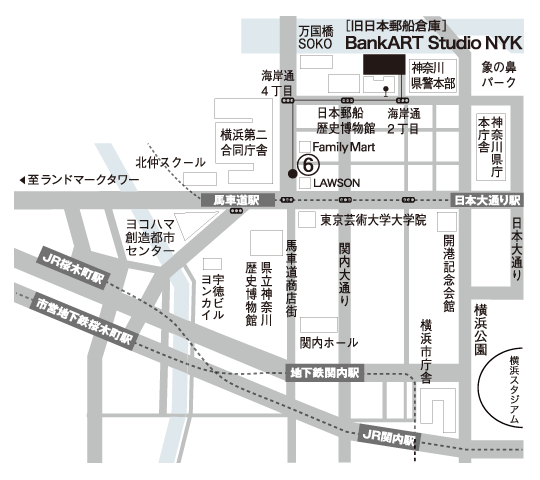 the bigger map
the Google Map
【BankART Studio NYK】
3-9 Kaigan-dori, Naka-ku, Yokohama
TEL 045-663-2812
Get off at Bashamichi station on the Yokohama Minato-mirai line. From exit 6 (Akairenga Soko exit,) it is about a 4-minute walk.
*BankART Studio NYK is run by NPO BankART1929 by agreement with Yokohama-city.
| | |
| --- | --- |
| Organizers : | Kazuo Ohno Dance Studio, BankART1929 |
| Assistance: | Agency of Cultural Affairs of Japan |
| In collaboration with: | Institut français du Japon-Yokohama, Tessen-kai, The Tsubouchi Memorial Theatre Museum of Waseda University, Shimada City Library |
| With the support of: | Embassy of Israel |