"The Green Table 2017" in Tokyo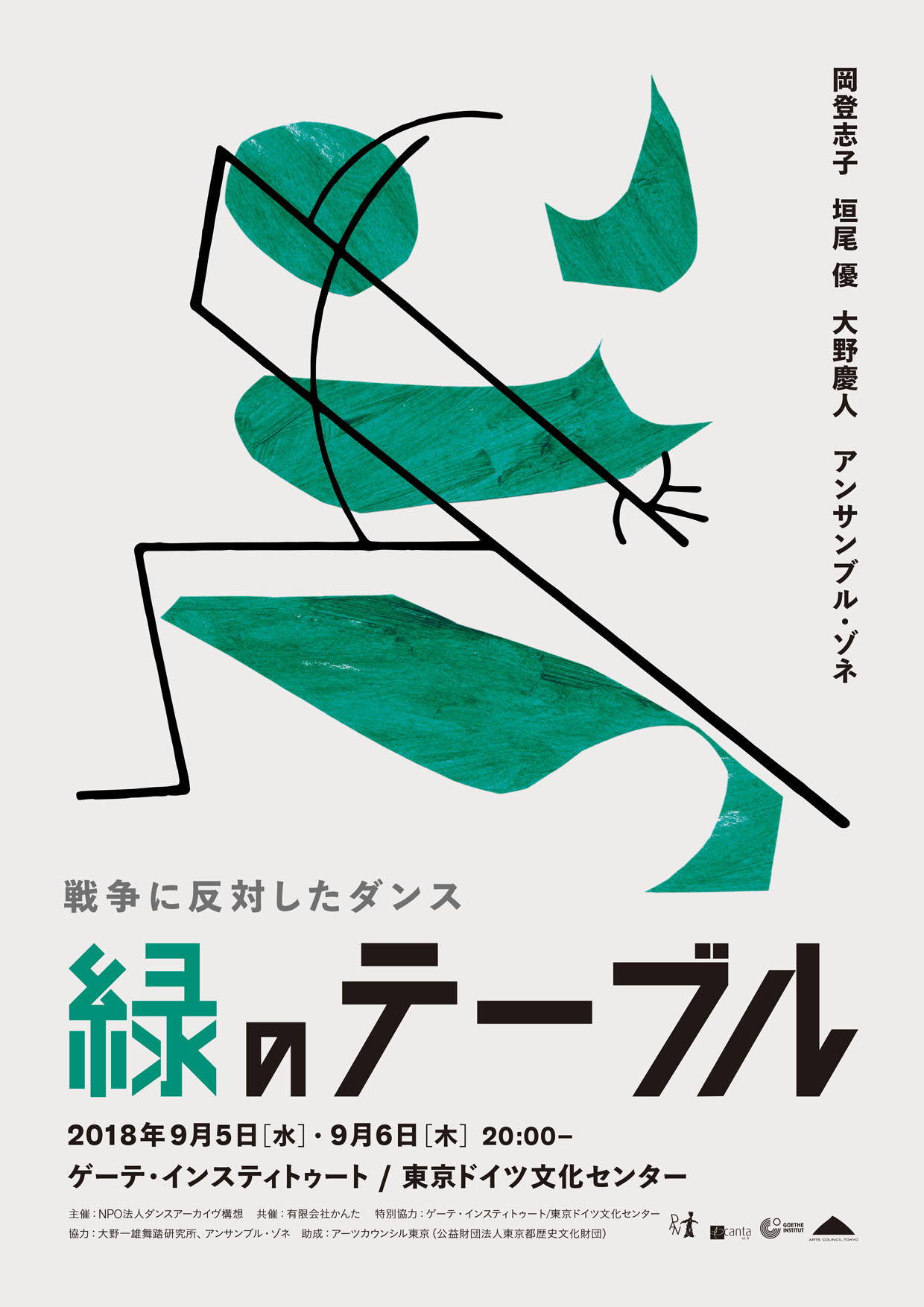 Premiered in Kobe in March 2017 and performed in Aichi in April this year, "The Green Table 2017" finally comes to Tokyo this fall. Besides Yoshito Ohno who's been performing in the piece from the premiere, workshop students of Kazuo Ohno Dance Studio will appear in the Tokyo version.
| | |
| --- | --- |
| Date | Wednesday, 5th & Thursday, 6th, September, 2018. 20:00~ |
| Venue | Goethe-Institut Tokyo (7-5-56 Akasaka, Minato-ku, Tokyo) |
| Admission fee | Advance purchase: Adult-3,000 yen, Student-2,500 yen, Group of 5 people-12,000 yen |
| Presented by | Dance Archive Network (NPO) |
→ Please visit Dance Archive Network's website for the detail
→ Flyer download (only in Japanese)
→ Dance Archive Network's newsletter no.12 ("Archives Exploring the Future of Dance: The Green Table, Past and Present" by Eri Karatsu, a producer and senior curator of Aichi Prefectural Arts Theater)
The Green Table 2017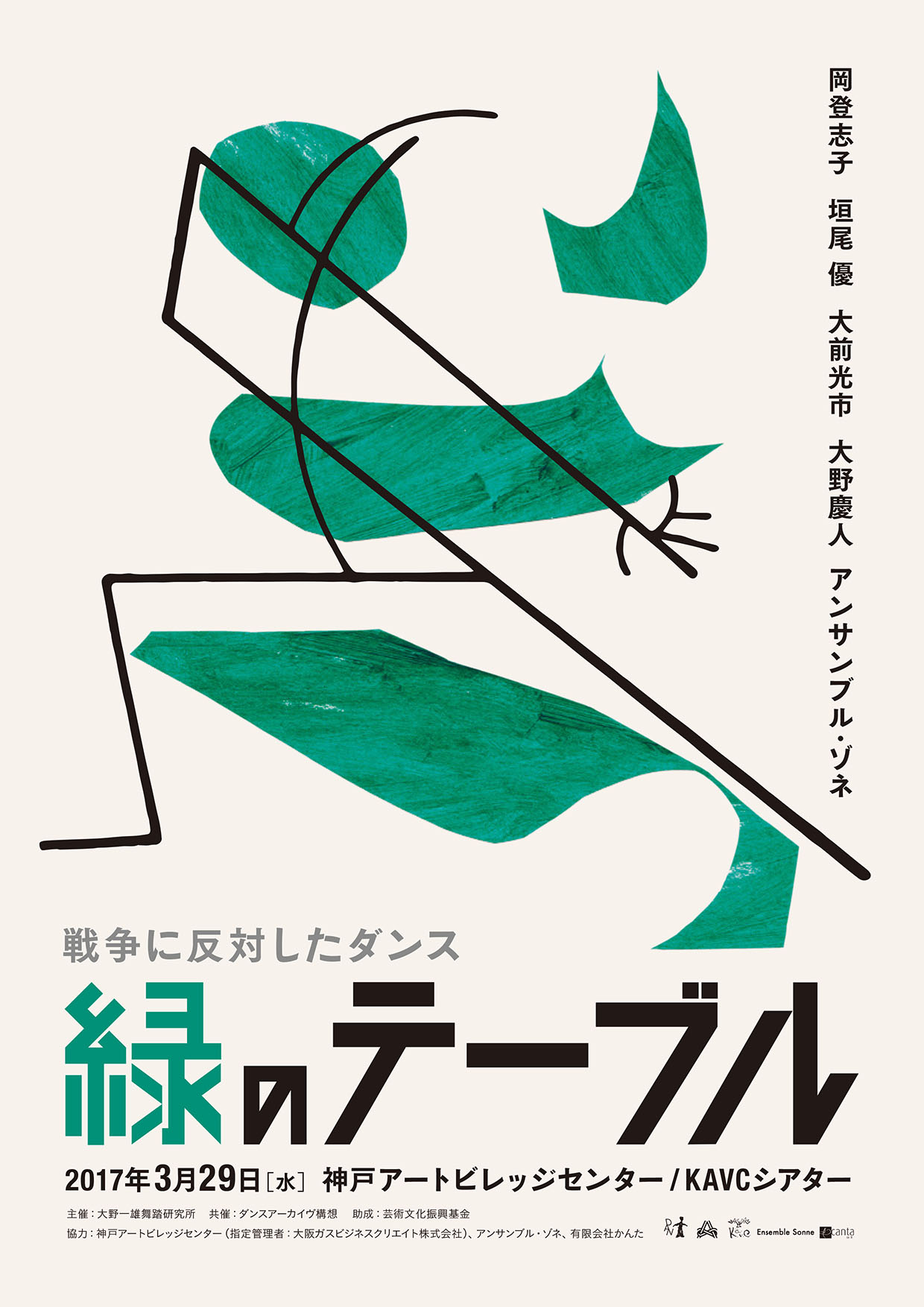 Kurt Jooss's anti-war masterpiece "The Green Table" was created in 1932 when people felt the threat of the coming war. Whenever this piece was reproduced, Kurt Jooss himself supervised the choreography and after his death, his daughter took his role. Without those eyes which experienced the original piece and time, how could we inherit it and communicate it to the contemporary audience? Is it possible to inherit dance piece beyond time in the first place? "The Green Table 2017" is a research project to seek into such issues.
Date
Wednesday 29th, March, 2017. 17:00/ 19:30~
Venue
KAVC Hall at Kobe Art Village Center
(5-3-14 Shinkaichi, Hyogo-ku, Kobe)
Admission fee
3,000 yen/ Student reduction: 2,500 yen

※Sold out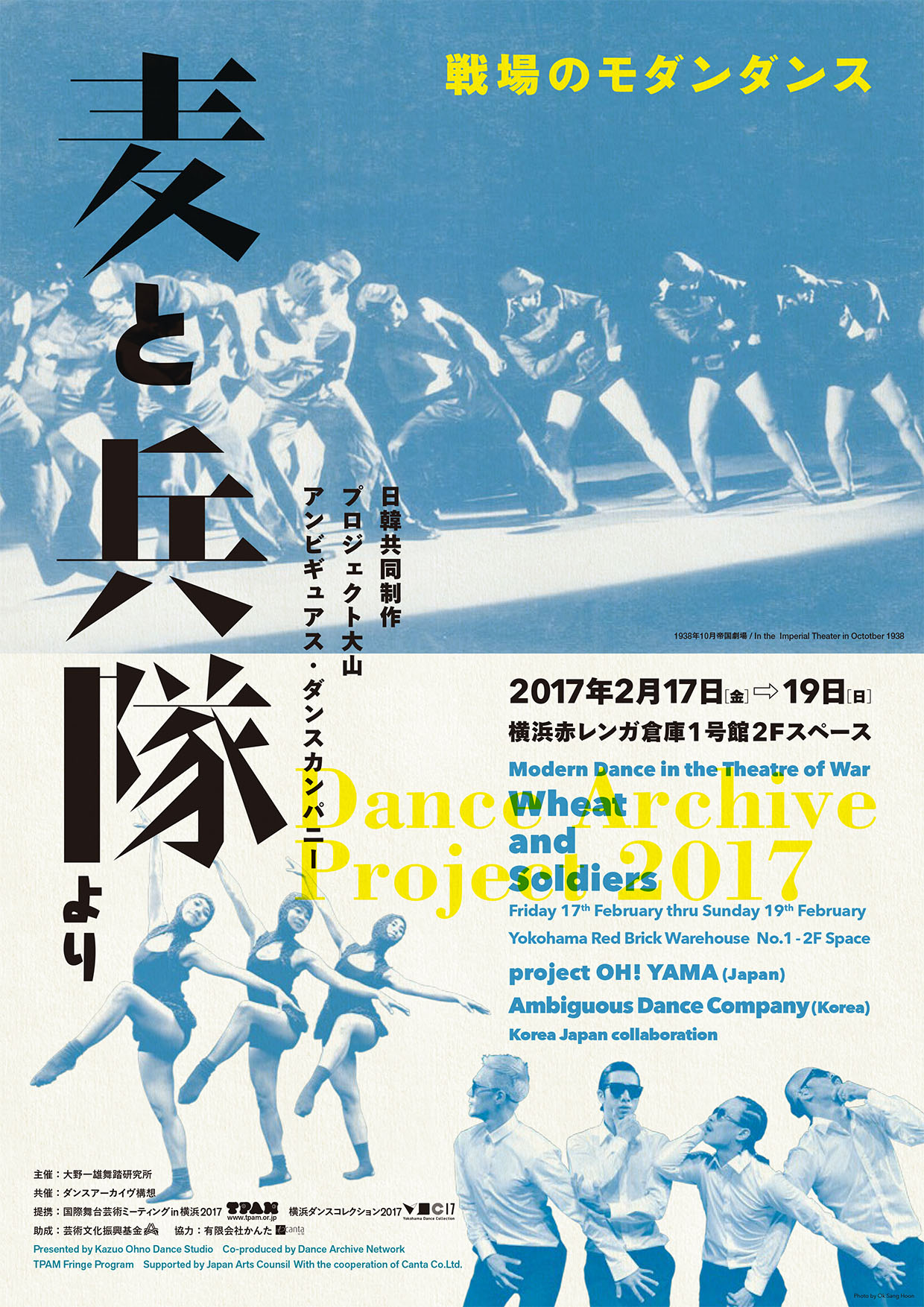 Dance Archive Project 2017 (DAP2017)
project OH!YAMA (Japan) Ambiguous Dance Company (Korea) Korea Japan collaboration


Modern Dance in the Theatre of War : Wheat and Soldiers
The pioneers of Japanese modern dance, Takaya Eguchi and Misako Miya performed Wheat and Soldiers at Tokyo's Imperial Theater in October 1938. The historical context was the Sino-Japanese War. The following year, their dance troupe embarked upon a government sponsored overseas tour for Japanese forces, in which segments of Wheat and Soldiers were staged. The troupe participating in the tour to entertain the forces and the wounded comprised three men and seven women. Four consecutive tours took place until 1942. The few existing photos bear witness to large crowds; in the history of Japanese modern dance, this piece probably attracted the most spectators. It was, however, never performed after the war. How was this work created and perceived? Enveloped in mystery, it will over time disappear into the vast shadow of soldiers' wartime memories. While impossible to faithfully reproduce, let us, however, listen to the fading whispers of a dance work that risks being silenced by the passage of time.
Dates
Friday 17th February thru Sunday 19th February, 2017
Venue
Yokohama Red Brick No.1 - 2F
(1-1-1 Shinko Naka-ku, Yokohama)
Admission Fee
3,000 yen for each performance /
Student Reduction : 2,500 yen /
TPAM Registration Benefit : 2,500 yen
Presented by
Kazuo Ohno Dance Studio
Co-produced by
Dance Archive Network (NPO)

More Information